There are few things in life as delightful as a well-made cheese. In Oklahoma, the best place to find such a thing is in Krebs, just east of McAlester. Known as the Little Italy of Oklahoma, Krebs is home to a number of Italian restaurants and Lovera's Italian Market. Lovera's has been making their own Italian sausage since they opened and now makes an award-winning line of cheeses. They also have their own line of olives, vinegars, spice blends, and more.
The market first opened as a small town grocery in the 1950s by the Lovera family and is still being run by their son, Sam. The family home also still sits behind the store and the backyard is often used for parties and events hosted by the shop.
Over the years, Lovera's has had to fight against recessions, chain supermarkets, and big box stores to remain in business. Their current cheese making operations may never have even begun if not for the recession of the early 1990s when business at the store slowed to a crawl. Italian sausage is a product Sam has been making for the store since he was a boy, but in 1991, he constructed a stand-alone, dedicated sausage-making building to increase their production of the handcrafted meat.
This event also prompted Sam to try his hand at making cheese. The store had been selling a wildly popular cheese made by local women since opening in the '50s. This cheese had always been a best seller and often sold so quickly it never even made it to the shelves. A few years later, the Loveras had their own cheese factory on-site. "In order for a business to survive you find your niche," Sam says. And Lovera's Market has found it through their transition to specialty Italian foods.
In 2008, Sam's son-in-law, Shawn, joined the family business. With a background in culinary arts, Shawn quickly took to the challenge and revolutionized the way Lovera's made and marketed their cheese. He began entering the cheese in contests, expanding and improving the cheesemaking facilities, and creating new varieties of cheeses for sale.
All cheese is made from one simple ingredient: milk. Starting with something so basic, cheese sounds like it would be an easy thing to make, but is much more complicated than it sounds. Cheesemaking is a very precise process and the end product can be "drastically affected by the surrounding environment," explained Shawn. Everything in the process must be consistent and precise throughout or the cheese made last week will taste completely different than the cheese made this week. Even something as seemingly inconsequential as when and how often to move the cheese can have a profound effect. Shawn keeps detailed logs of how often wheels of cheese are rotated and which position on the shelf they occupy to ensure that his award-winning cheeses are always consistently tasty.
Lovera's uses a variety of milks to create their cheeses including goat, cow, sheep, as well as combinations. Many of the cheeses start with unpasteurized milk and are aged for anywhere from a few months to over a year. Their signature cheese, the Caciocavera comes in several varieties including aged, braided, and smoked. It is a cow's milk cheese that is hand stretched and hung to dry/age. The flavor and texture is a cross between a mozzarella and a provolone and is perfect for melting. The smoked Caciocavera variety is smoked on site with Mockernut Hickory before being aged. Last year it won first place at the American Cheese Society competition.
That is n't the only Lovera's cheese to win at the national competition. The Aged Caciocavera won second place in its category the first year it was entered in 2012. The following year cave-aged Batista won third place and the braided Caciocavera took home top honors. Even the innovative packaging for the uniquely shaped Caciocavera cheese won an award in 2014. In the true Lovera family style, the packaging was designed by Sam's daughter.
As head cheesemaker Shawn is constantly experimenting with new cheeses to expand their offerings—the newest additions are a variety of flavored soft cheeses in both savory and sweet options.
No story about an Italian family making and selling cheese would be complete without at least mentioning pizza. When asked for a recommendation for the best Lovera cheese to put on pizza, Shawn couldn't choose just one so he provided three. For a traditional melting cheese, the aged Caciocavera is ideal for melting on pizza or even in grilled cheese. The Oklahoma Toma is buttery and salty and would be a perfect shredded on top of any pizza as a finishing touch. Those that like goat's milk cheese atop their pizza should go for the Caprino di Krebs.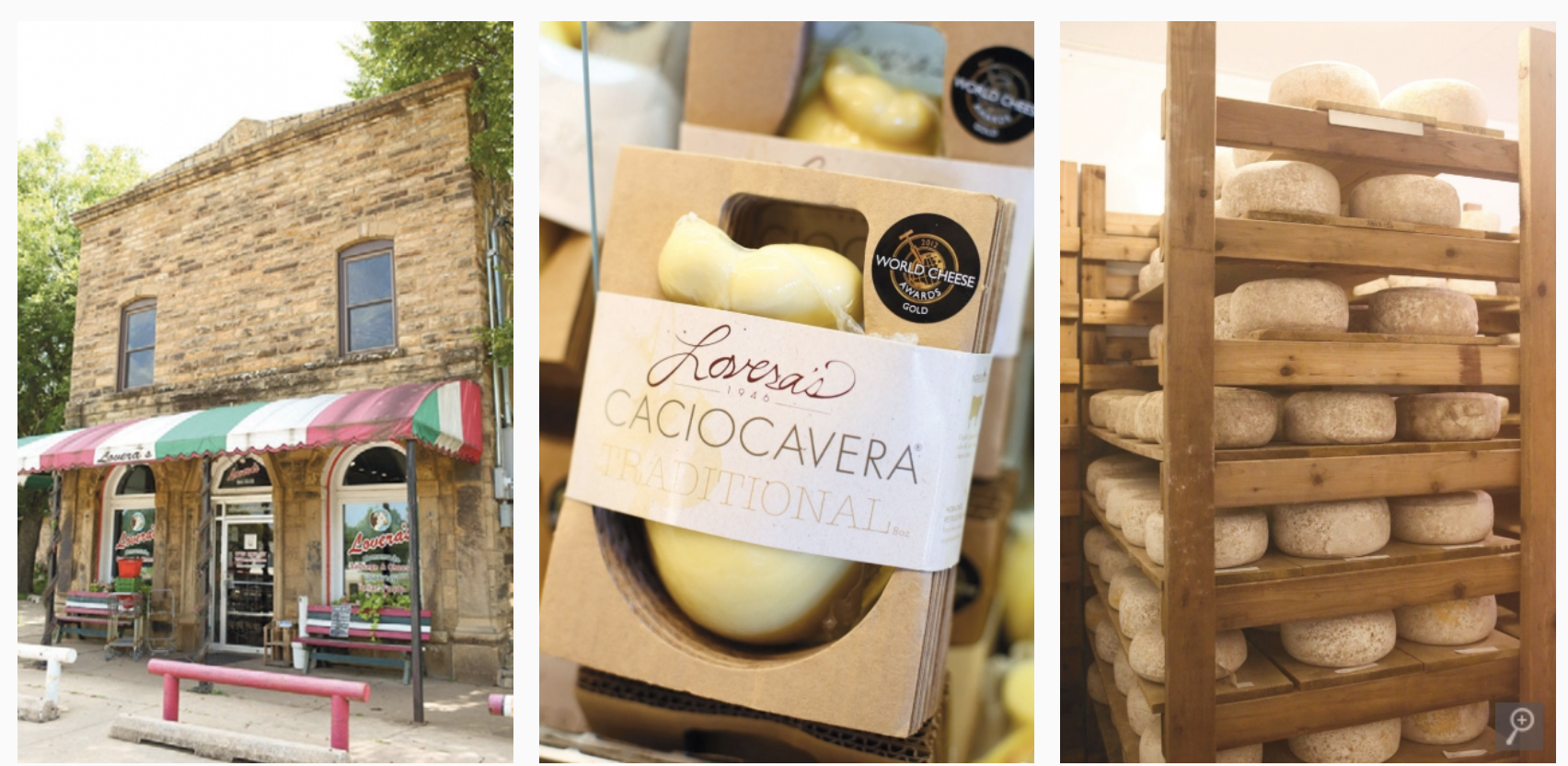 Written By Cassie Zaccarelli | Photos By Aaron Snow | August 25, 2015
Source: https://edibleoklahomacity.ediblecommunities.com/shop/loveras-italian-market